Asphalt Maintenance Company in Dover, PA
#1 Source For Asphalt Maintenance
wHAT mAKES Freedom Asphalt THE BEST IN Dover, PA?
What makes our asphalt maintenance services the best in Dover, PA, and the surrounding areas? Our reliable prices, experienced team, and satisfaction guarantee are the what separates us from the competition.
Reliable Prices
We pride ourselves on being one of the most affordable asphalt providers in Dover, PA
Experienced Team
We work on various asphalt projects, big and small, and we have the skills to handle any repair or installation job.
100% Satisfaction
Looking for a new driveway, parking lot, or other asphalt surfaces, we'll ensure your complete satisfaction.
Why Choose Freedom Asphalt Over Other Asphalt Maintenance Companies?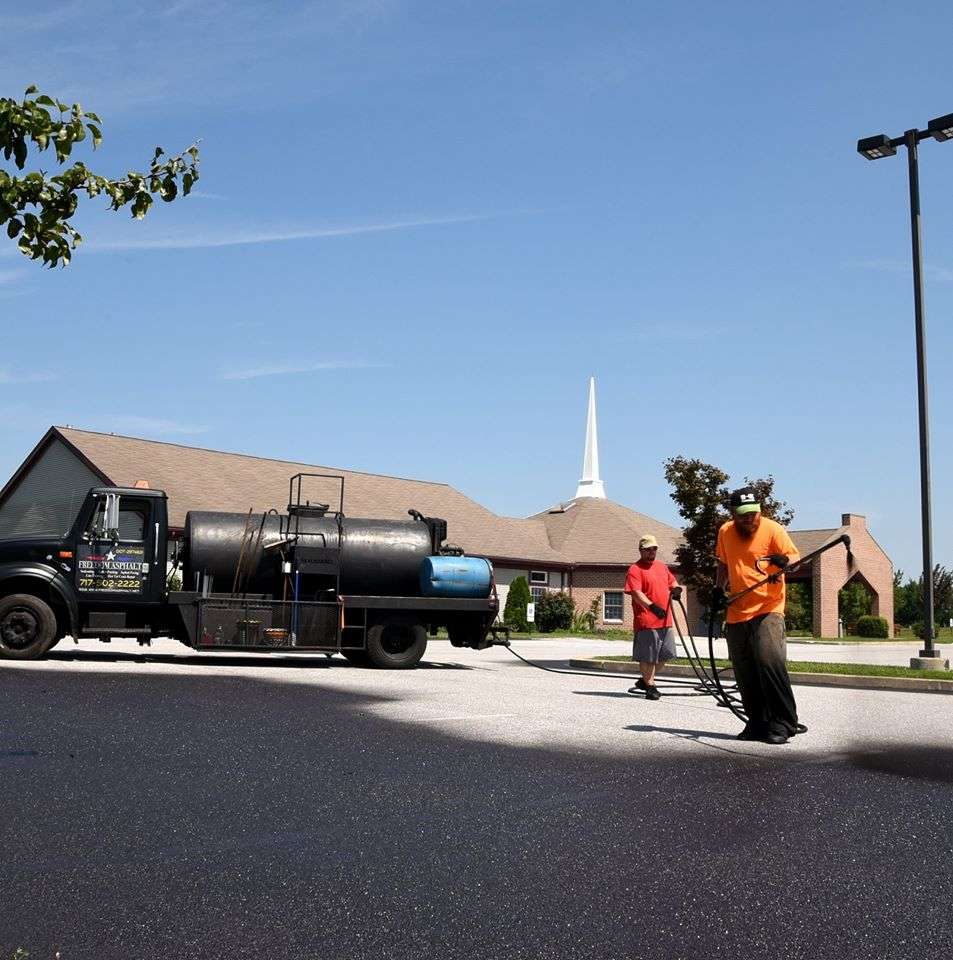 Benefits of Our Asphalt Maintenance Service
Freedom Asphalt's professional asphalt maintenance service provides a comprehensive range of asphalt maintenance services for commercial and residential customers throughout the Dover, PA area. 
Improved Curb Appeal
A well-maintained asphalt surface is aesthetically pleasing and increases curb appeal, adding value to your property.
Prolonged Lifespan
Regular maintenance is essential for preserving the life of your asphalt surface. Freedoms Asphalt's maintenance service can help to extend the life of your asphalt surface and maximize your investment.
Improved Safety
Regular maintenance can address safety concerns such as cracks, potholes, and uneven surfaces that can cause trip hazards.
Reduced Repair Costs
Regular maintenance can help to identify and address any problems before they become costly repairs.
What Do Our Customers Have To Say About Our Services?
I had my large driveway widened and completely repaved. My old driveway was super bumpy and rough. When freedom was done it is now smooth, solid, and graded so the rainwater runs where we want it to. The price was very fair and the team was professional and listened to all our wants and needs and made them all happen.
They did an amazing job on my driveway. I submitted a request, had an estimate, and was scheduled within a week! The office did a great job working with me, and the crew was polite. They weren't the cheapest, and not the most expensive quote I got. I chose them ultimately because of how well the communication was.
Casey does excellent work preparing township permit applications. I received a lot of compliments on paperwork she filled out for my drive way repair and expansion. Customer service was awesome, Casey did excellent job answering project questions, very respectful, took excellent care of property using heavy equipment.
We Make Asphalt Maintenance Easy
Request A Free Quote
Fill out our contact form or give us a call to start your asphalt service transformation today!
Schedule A Consultation
Schedule a time for us to come out and begin our work. We start by examining the surface we will be working on.  
Relax While We Do The Work
We complete our job efficiently and clean up our equipment leaving you with a beautiful asphalt surface!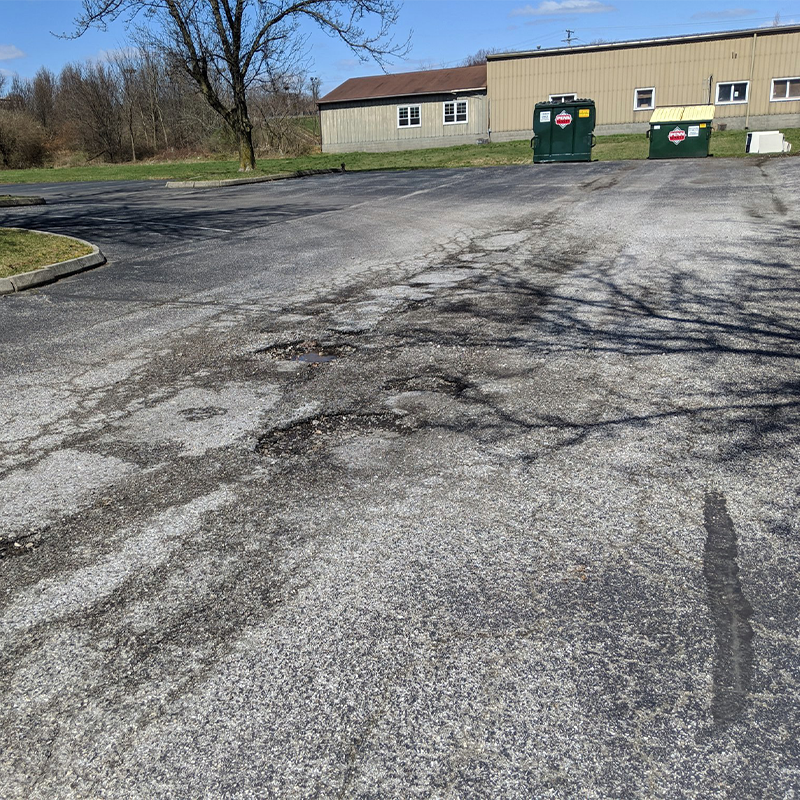 Asphalt Maintenance
Asphalt is a strong and durable material, but it is not immune to damage from weathering, wear, and tear, or other factors.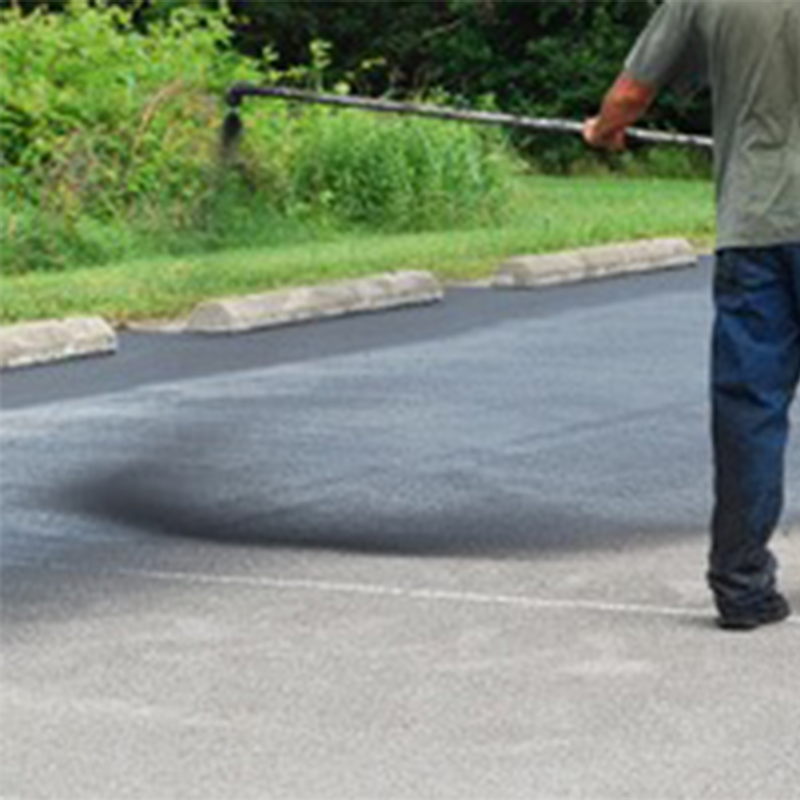 Sealcoating
Driveway and parking lot sealcoating will protect your asphalt, extending the life of your asphalt significantly.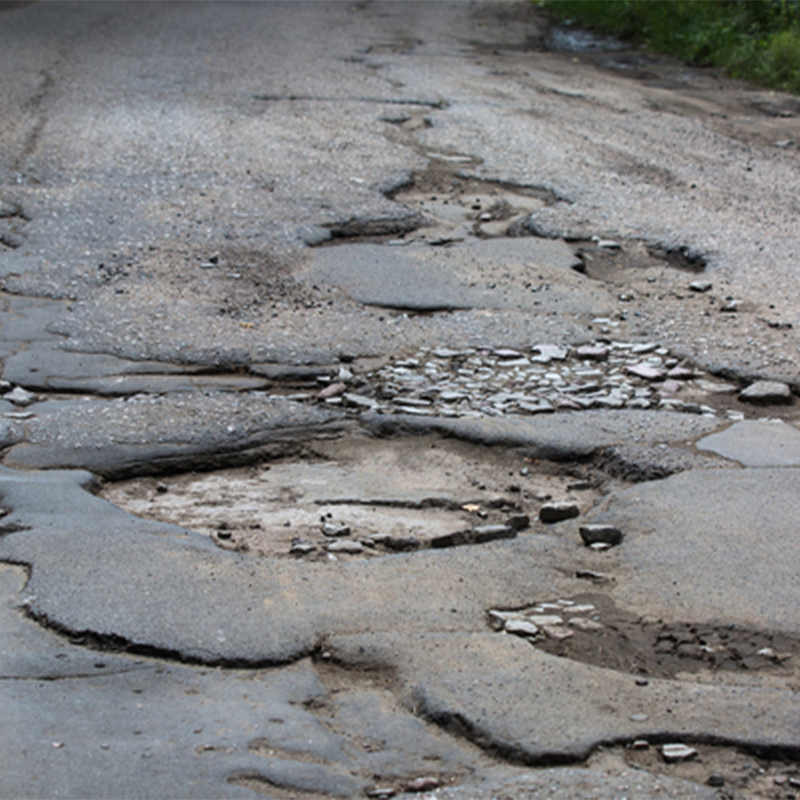 Asphalt Repair
Asphalt repairs are typically not very expensive, making them a cost-effective solution for many property owners.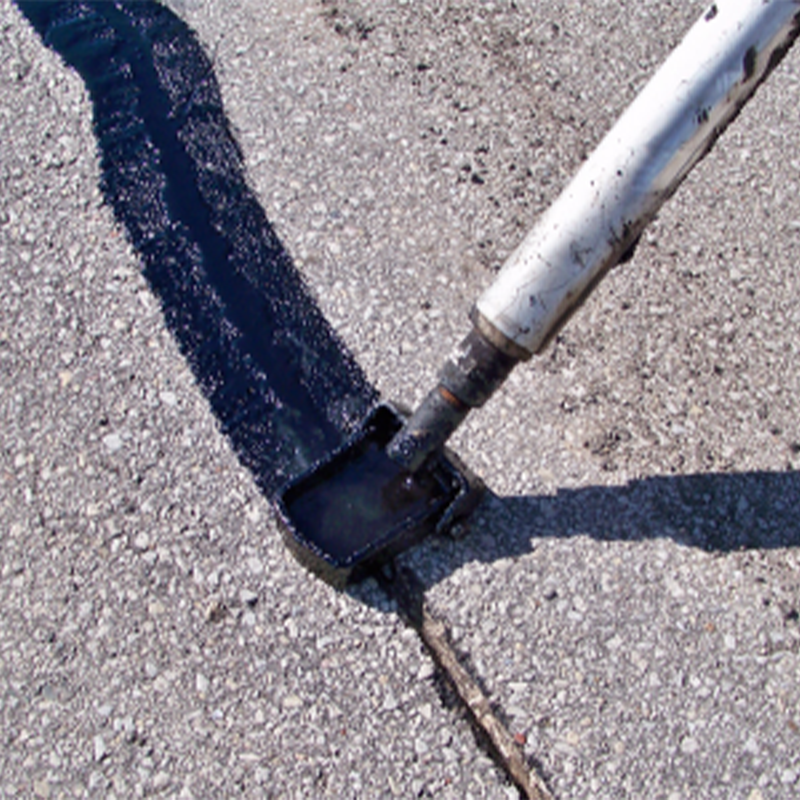 Crack Repair
Not only do cracks detract from the appearance of your property, but they create trip hazards.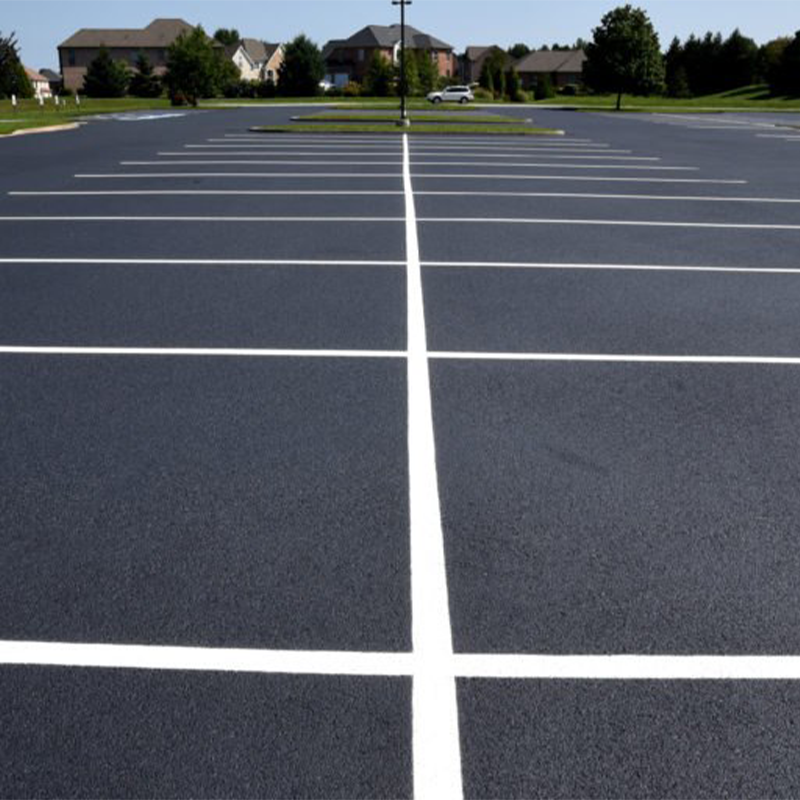 Pavement Marking
Pavement markings are essential for any business that uses paved surfaces, such as parking lots or driveways.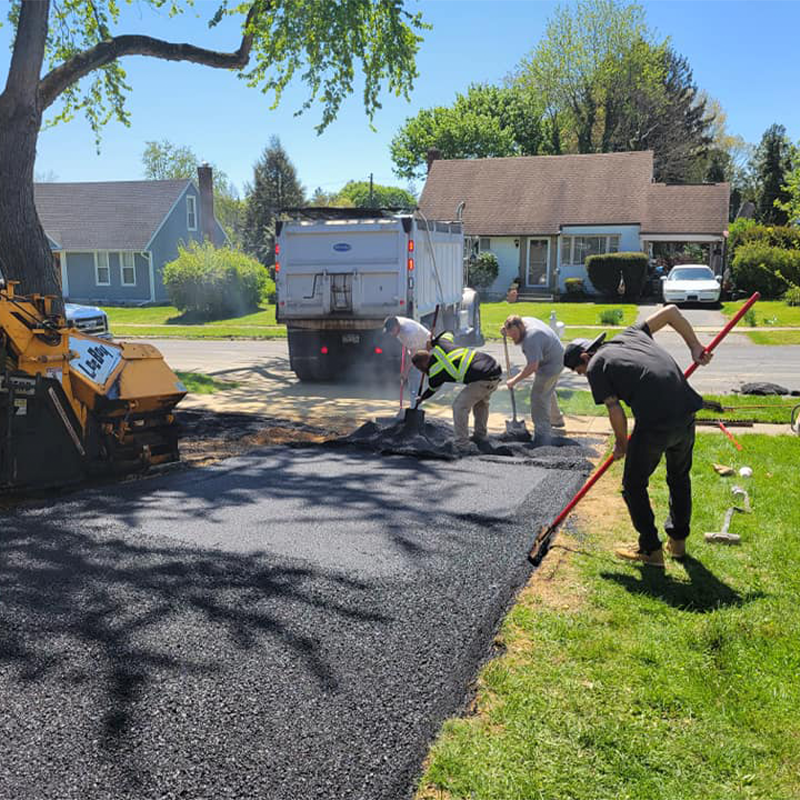 Asphalt Paving Company
Asphalt can withstand heavy traffic and weather conditions, which is a good choice for parking lots, driveways, and roads.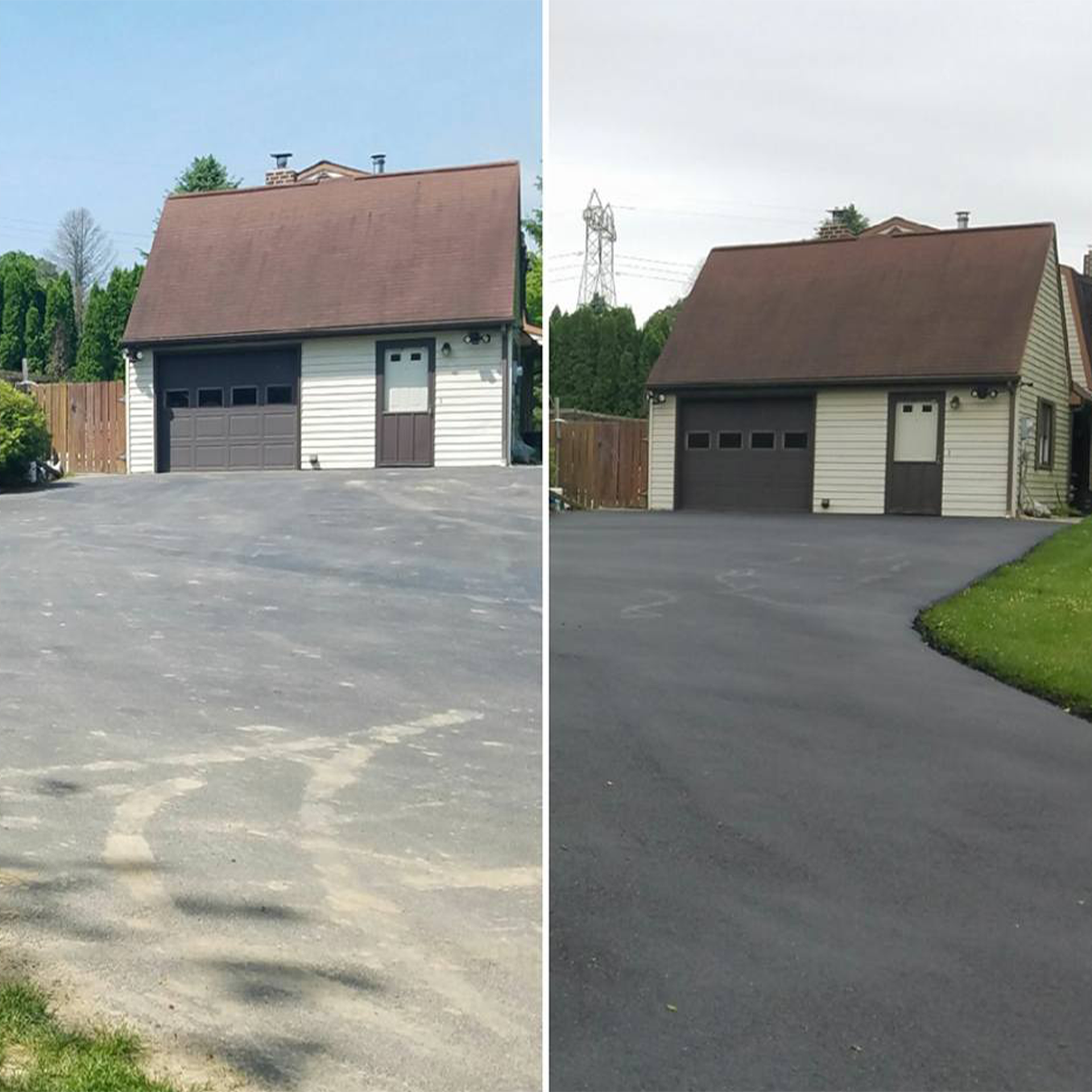 Professional Asphalt Maintenance
Asphalt maintenance is essential for ensuring the longevity and durability of your asphalt surfaces. Asphalt is a strong and durable material, but it is not immune to damage from weathering, wear, and tear, or other factors. Over time, exposure to the elements can cause cracks, potholes, and other problems. Regular asphalt maintenance can help to prevent or repair these problems and extend the life of your asphalt surfaces. Many different methods can be used for asphalt maintenance, depending on the type and extent of the damage. Regular cleaning and sealing can often be enough for minor cracks and other surface damage to prevent further damage and extend the life of the asphalt. More severe damage, such as deep cracks or potholes, may require more extensive repair, such as patching or resurfacing.
If you need asphalt maintenance, or if you have any questions about the best way to maintain your asphalt surfaces, contact Freedom Asphalt today. We will be able to assess the condition of your surfaces and recommend the best course of action for repair or maintenance. With our help, you can keep your asphalt surfaces looking great and functioning correctly for many years to come. Don't forget to enquire about your free estimate.
The best Asphalt maintenance services in Dover, PA
Asphalt is a common type of pavement material, and it is used in many parking lots and driveways. Asphalt is a mixture of rocks, gravel, and sand held together by a binder. This binder is typically made of bitumen, a type of petroleum product. Over time, the sun, rain, snow, and ice can break down the binders in asphalt, causing it to become brittle and crack. If these cracks are not repaired, they will continue to grow and eventually cause the asphalt to deteriorate. Asphalt maintenance is crucial because it helps prolong the pavement's life and prevent costly repairs. Several different methods can be used to repair cracks in asphalt. The most common method is to fill the cracks with a sealant. Once the sealant has been applied, it will need to be allowed to dry completely before traffic can resume. Another option for repairing cracks in asphalt is to patch them.
At Freedom Asphalt Maintenance, we specialize in asphalt repair and maintenance. We offer various services, including sealcoating, crack filling, and patching. We also offer a wide range of preventative maintenance services, such as sealcoating. We are also locally owned and operated, so you can be sure that we will provide the highest level of customer service. Our experienced professionals can help you choose the right solution for your specific needs.
Extended asphalt lifespan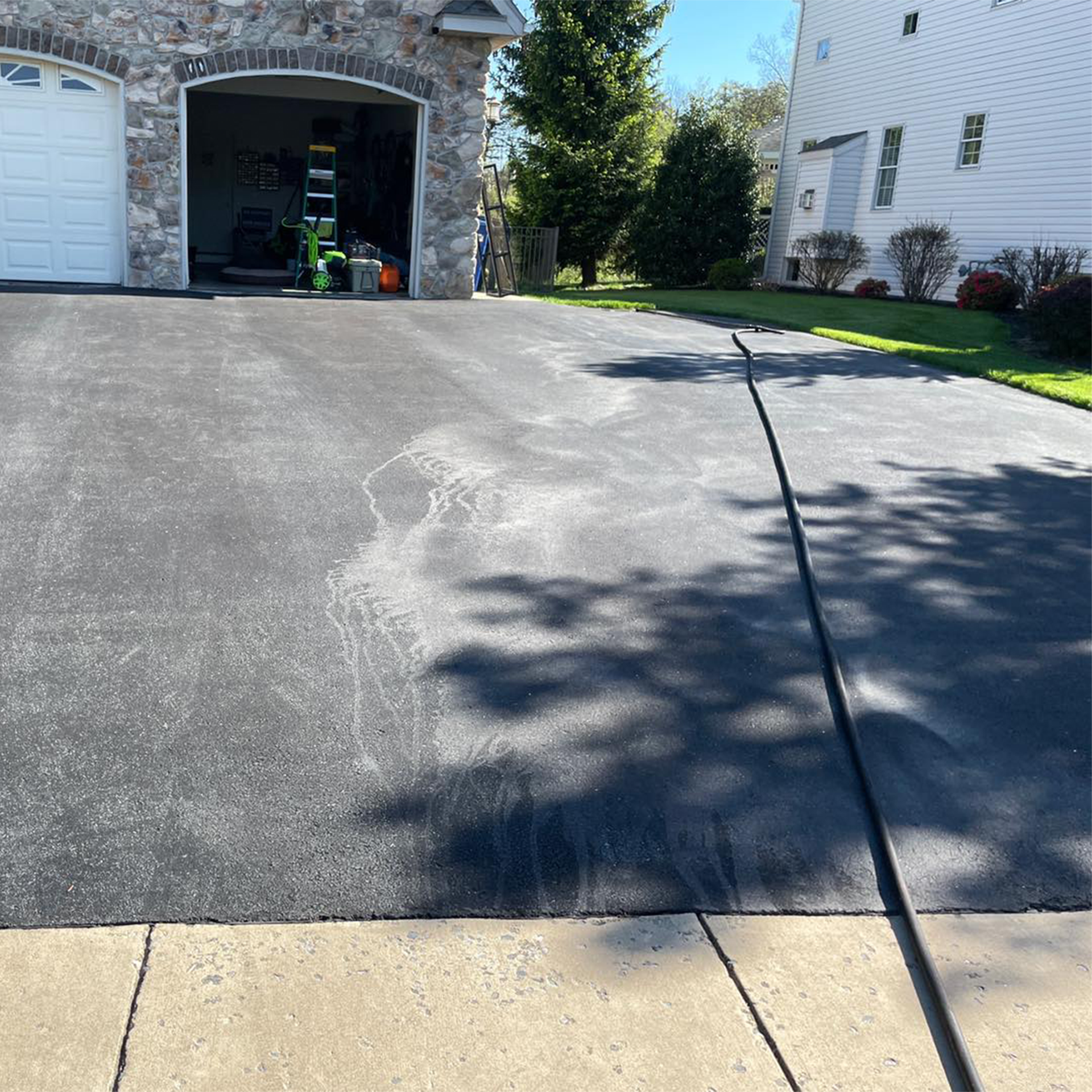 Roads made from asphalt are susceptible to oxidization
Oxidization causes asphalt to crack
The longer this crack is exposed to the elements the bigger it gets
The larger the crack in the asphalt gets the more dangerous the road becomes to drive on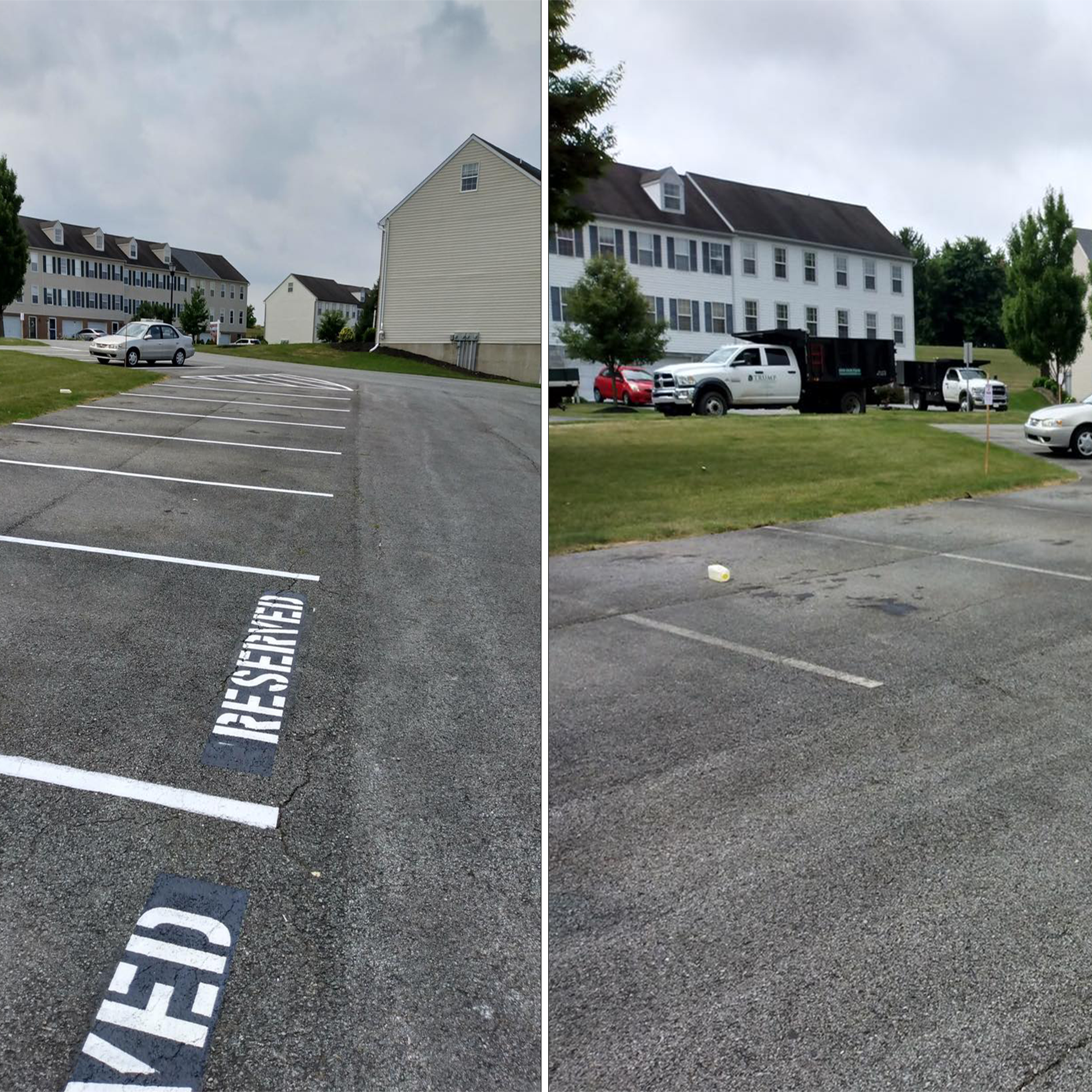 Expert Asphalt Maintenance Services
We provide expert asphalt maintenance services to keep your surfaces looking their best. Our team is experienced and dedicated to providing high-quality workmanship on every job. Freedom Asphalt is a local asphalt maintenance company based in Dover, PA. We have over ten years of experience sealcoating and patching driveways and parking lots. Did you know that you should get asphalt seal-coated every three years? Consistently sealing and maintaining your asphalt will significantly extend its life. We offer driveway and parking lot asphalt sealing. We can also provide asphalt patching and other maintenance. Supporting the local economy and helping to create jobs in your community. Locally owned businesses are typically more responsive to the needs of their customers and the community. In addition, you can often find better deals and more unique products at locally owned businesses.
We take pride in our work and go above and beyond to ensure our customers are satisfied. Dover, PA, is a great place to live, work, and raise a family. There are plenty of things to do in the area, and the community is friendly and welcoming. If you're looking for an asphalt maintenance company that you can trust, look no further than Freedom Asphalt. We are dedicated to providing our customers with the best possible service and will work hard to ensure your satisfaction. Contact us today to schedule your free consultation.
Protection against weather elements
Asphalt Maintenance Done Right in Dover, PA
Asphalt is a durable material that can withstand a lot of wear and tear. However, like all materials, it will eventually succumb to the elements if it is not maintained correctly. Therefore, asphalt maintenance is essential to keep your driveway, parking lot, or other asphalt surfaces in good condition. There are many benefits to maintaining your asphalt surface. One of the most important is that it will extend the life of the pavement. Regular maintenance will prevent minor problems from becoming big ones and ensure that your pavement looks its best for years to come. Asphalt maintenance is also vital for safety reasons. A well-maintained surface is less likely to develop potholes or other hazards that could cause accidents. In addition, regular maintenance will improve the appearance of your asphalt surface. A well-maintained asphalt driveway or parking lot will be an asset to your home or business and make a good impression on visitors. As you can see, there are many good reasons to ensure that your asphalt surface is properly maintained.
Quick and efficient repairs
Preserves structural integrity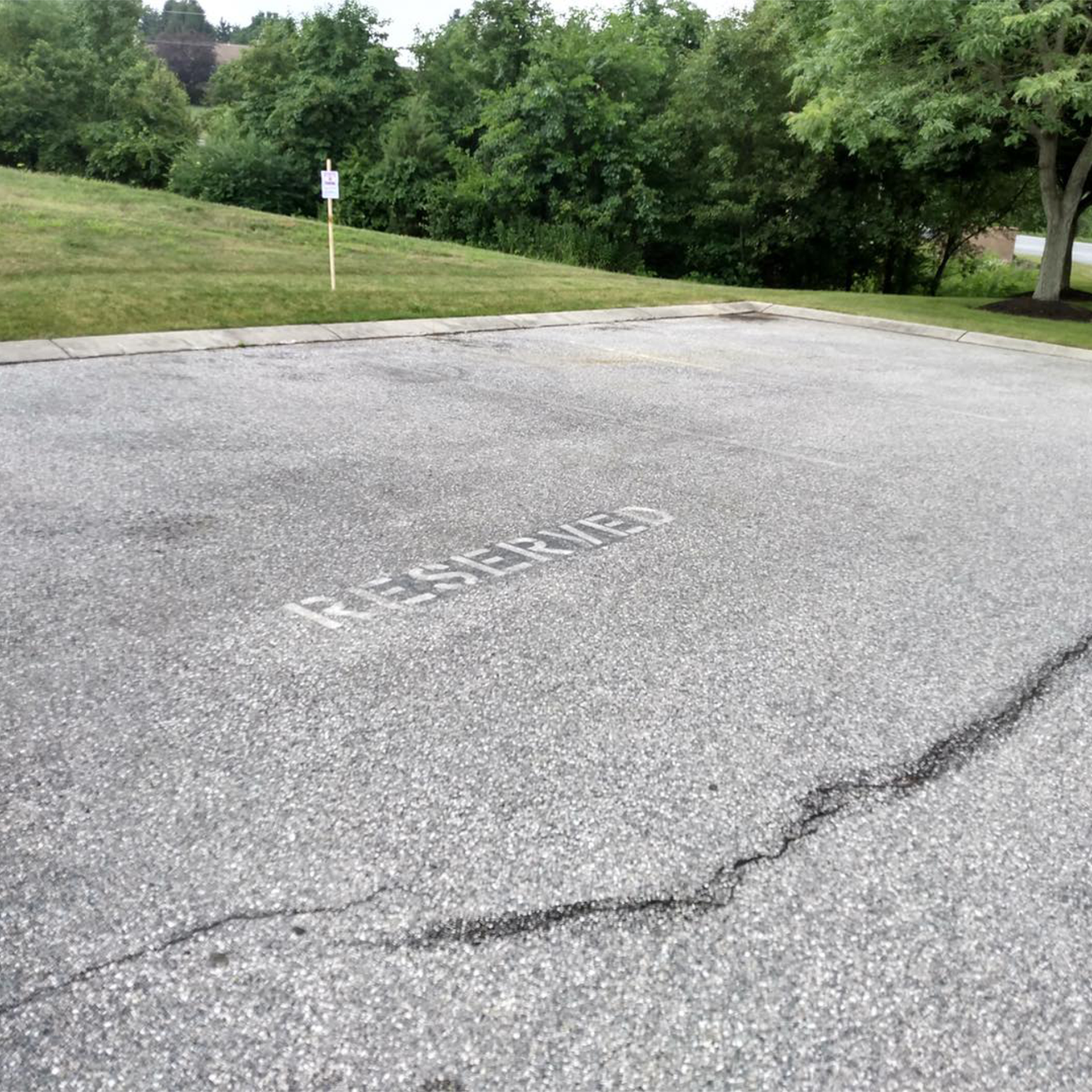 We Only Deliver
The Best!
Driveway Cleaning-Pressure Washing Driveways, Oil Spot Removal, Painted Line Removal
Asphalt (Blacktop) Sealing - Parking Lots, Driveways, Walkways. (sprayed or brushed)
Sign Installation, Speed Bumps, Concrete Barriers and More
Asphalt sealing- Driveways (brushed only)
Cold & Hot Crack Filling- Parking Lots, Driveways
Hot Asphalt Patching- Pot Holes, Sink Holes, Big Cracked Areas
Line Striping- Basketball, Tennis and Other Athletic Lines, Parking lots
WHY CHOOSE FREEDOM ASPHALT?
Asphalt Maintenance Near Me
Asphalt is a durable material that can withstand a lot of wear and tear; however, over time, it will show signs of age and damage. Hiring a professional asphalt maintenance company like Freedom Asphalt can help to keep your pavement looking its best and extend its lifespan. Not only will they repair existing damage, but they can also prevent new damage from occurring. Asphalt maintenance can save you a lot of money in the long run by avoiding the need for costly repairs or replacements. In addition, regular maintenance will improve the curb appeal of your property, making it more attractive to customers, tenants, or visitors. There are many different asphalt maintenance services that a professional company like Freedom Asphalt can provide. These include sealcoating, crack filling, asphalt repair, excavating, and much more. Sealcoating is a process that involves applying a protective layer to the surface of the pavement. It helps to prevent water, dirt, and other debris from seeping into the asphalt and causing damage. Crack filling is another essential service, as cracks can allow water to enter the pavement and cause further damage.
There are many benefits to hiring a professional asphalt maintenance company. In addition to extending the lifespan of your pavement and saving you money, they can also improve the appearance of your property. Asphalt maintenance can increase curb appeal and make it more attractive to potential customers, tenants, or visitors. Another benefit is that regular maintenance can help prevent future damage. If you are looking for a professional asphalt maintenance company, look no further than Freedom Asphalt. We are a leading provider of asphalt maintenance services in Dover, PA. We have a team of experienced and certified professionals who are dedicated to providing the highest quality services possible. Contact us today to learn more about our services or to schedule a free consultation.
About Dover, PA
City of Dover, Pennsylvania
Area:
Local Time:
Mayor:
Weather:
Population:
Things To Do in Dover, PA
Service Areas
Lebanon, PA | Hummelstown, PA | Palmyra, PA | Lititiz, PA | Mount Joy, PA | Mountville, PA | Middletown, PA | Red Lion, PA | Manheim, PA | Shrewsbury, PA | New Holland, PA | Mount Royal, PA | Davidsburg, PA | Weigelstown, PA | Shiloh, PA | Emigsville, PA |
West York, PA | East York, PA | North York, PA | Glen Rock, PA | Adams County, PA | Abbottstown, PA | Biglerville, PA | Dillsburg, PA | Gettysburg, PA | Littlestown, PA | New Oxford, PA | Dover, PA | Felton, PA | Hallam, PA | Lewisberry, PA | Manchester, PA | Mount Wolf, PA | New Freedom, PA | Spring Grove, PA | Stewartstown, PA | Thomasville, PA | Wellsville, PA | Windsor, PA | Wrightsville, PA | Columbia, PA | Ephrata, PA | Leola, PA | Lititz, PA | Marietta, PA | Maytown, PA | Dauphin County, PA | Berrysburg, PA | Dauphin, PA | Grantville, PA | Gratz, PA | Highspire, PA | Lykens, PA | Millersburg, PA | Pillow, PA | Wiconisco, PA | Williamstown, PA | Cumberland County, PA | New Cumberland, PA | Newville, PA